I. ACHROMATIC COLOR SCHEME
---
II. MONOCHROME & CO-PRIMARY COLOR SCHEMES 
Okay, it is time to talk more about monochrome! Some things are strictly one hue, but much of what is called monochrome is more monochrome-ish. That is, it has a one-hue theme. For example, the video for Big Bang's song
"Blue"
– there is a bluish cast to the film, and only a few other colors here and there. And it is about feeling blue.
Whereas I would say that the video for their song "Monster" is more strictly monochrome with red-orange being the only really identifiable hue, among all the warm blacks, grays, and whites – although there is a cool, bluish light at one point, and you will see small breaks in the film that flash with a spectrum band near the start. I think in video work, you will see a lot of monochrome in it's simplest state: black and white, or sepia – not so much of the one-hue monochrome color scheme like we find in fabric patterns and print design. nsm
---
III. DYADIC COLOR SCHEMES w/ COMPLIMENTARY COLORS
Complementary color schemes vary a lot from place to place. It depends on what color wheel you use! But there are a lot of general categories of complementary schemes, and some you will often find are blues with various warm yellows or oranges, a variety of greens with reds, and some yellows and violets. See if you notice any complementary pairs around you. Here is a song by the new Korean group B.A.P. called "Rain Sound" where the video features the complementary color contrast of red and green; watch to the end to see what I mean! And in this video of Katy Perry's "Wide Awake" some of the scenes and some of her clothes are in dark purples and subtle golden yellows.
Okay, so Prof. Natalie St Martin loves the color scheme in this video, but it does not fit into one of Itten's color harmonies, so she decided to include it as an example of Contrast of Extension: Orange Caramel's "Lipstick". And Here is a room designed with an orange and blue scheme, notice how grayed the blues are to help that orange hue feel comfortable!
---
III. TRIADIC COLOR SCHEMES 
Piet Mondrian's "Broadway Boogie Woogie" 1942-43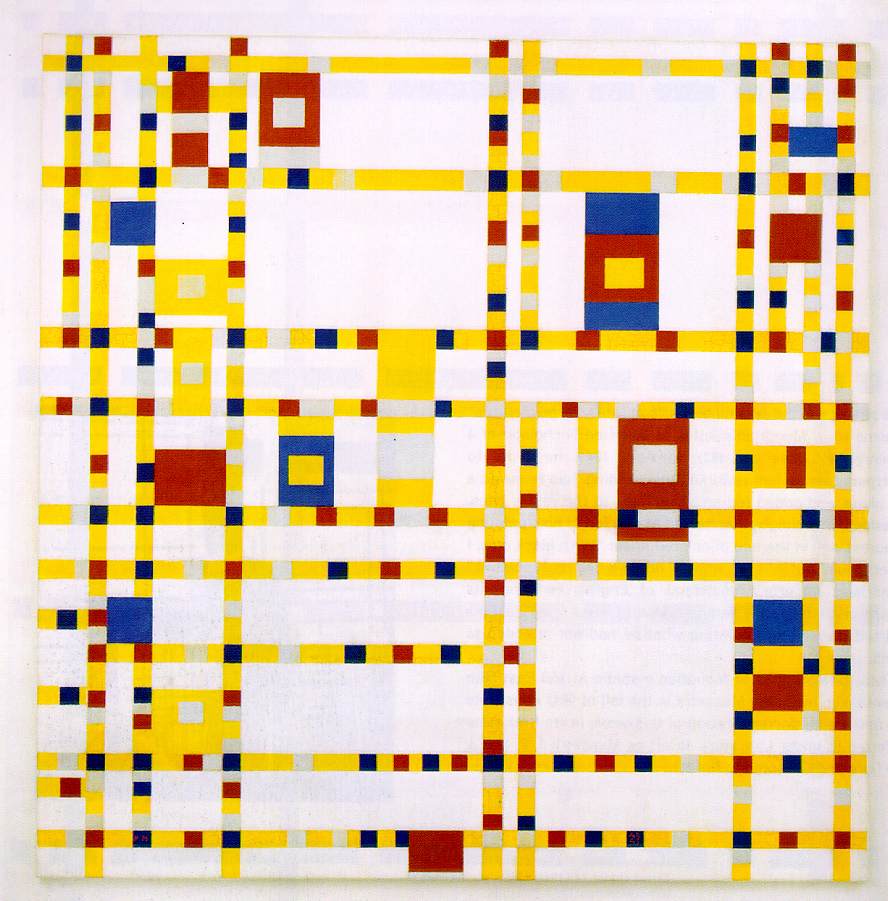 TRIADIC COLOR SCHEME IN VIDEO
Prof. Natalie St. Martin noticed that Alicia Keys' video for
"Girl on Fire"
features triadic color schemes! Particularly secondary and tertiary triads. The use of color in this whole video is quite striking.
Also, with a very different look, using a different triad of hues,a primary set with red, yellow, and blue, here is One Direction's
"One Thing"
 VI. CMYK as a color scheme in Video
Here is a brand new Kpop video by the group Shinee called "Dream Girl". There are a lot of colors here, contrasted by scenes in black and white, but I notice a very distinct use of Cyan, Magenta, and Yellow in RGB mode – both in the clothes and interiors, and in the breaks and bursts of color that interrupt here and there.
---
VII. KULER COLOR SCHEMES
On the Kuler Color Schemes website, if you go to "Create" you will see that they offer suggestions for models of color combinations based on some shapes around the color wheel: Analogous, Monochromatic, Triad, Complementary, Compound, Shades, and Custom. The first four are also on Itten's color chord list, but what do you think about Compound and Shades? and of course, Custom just means you can do whatever you like!
Here is a nice color scheme site Design-seeds. Can you find an example of a triadic scheme?
There are many websites that allow you to create and play with color schemes including Aviary, Colour Lovers, and Kuler (links to the right in the sidebar). Here's another I just found:
Color Scheme Designer
. These might help in your decision making for your complementary color pallets for project 3.
---
VIII. CONTRAST OF PROPORTION